Voice Recordable Dual Pull String Exit Monitor ONLY
Smart Caregiver
SKU:
TL-3100V
|
UPC:
8.12293E+11
Smart Caregiver Voice Recordable Tamper Proof Fall Guard-TL-3100V
The New TL3100V Recordable Voice Monitor works as a pull-string monitor or sensor pad monitor and has the added ability to record a personalized message to be played back when the alarm is activated. It allows the residents to hear a melody or a familiar voice instead of a frightening alarm sound as resident attempts to get out of bed or up from a chair. Residents are not frightened by a loud alarm, when they attempt to get out of bed or a chair. Caregivers or family members can record a personalized message, like, "Please sit tight Mrs. Jones, help is on its way." or, if preferred up to a 15 second clip of the residents choice of music. Prevent false alarms when using pull-string monitors by adjusting the cord stop to desired length.

The Recordable Voice Monitor TL-3100V works with all corded Smart Caregiver pressure sensing pads and floor mats and easy release seatbelts.
Always On Means Always Ready
This Monitor was designed without an ON/OFF switch, which means it is ALWAYS ON and cannot be turned off. Caregivers use the easily accessible Alarm Reset Button to silence the alarm and attend to resident needs without the potential for accidentally leaving alarm off.
Voice-Recordable – Residents are comforted when they hear a familiar voice or song
Optional Setting: Caregiver can reset the recordable voice monitor with Patented, Caregiver Key™ that TamperProofs monitor

No Unsafe Off switch – prevents resident tampering

Reset button automatically silences and resets the alert

0-2 second delay switch

Raised Visual Status light enabling caregiver to see alarms from a distance

Volume and tone settings are all adjustable

Three different tone options

Audible and visual alert

Operates by 9V battery and has an optional AC Adapter (Use name brand batteries for maximum battery life and superior performance


Protective boot & adjustable strap

Patented Pad Lost notification alerts the caregiver if connection between sensor pad and monitor becomes disconnected

Place Cordless pads with the Snaps pointed down to ensure transmitter pocket remains moisture free
Use with Smart Caregiver Component
PPB-WI 20x30 Bed Corded Sensor Pad
PPC-WI 7x15 Chair Corded Sensor Pad
TL-2100CP and Timed Sensor Pads for easy F-Tag compliance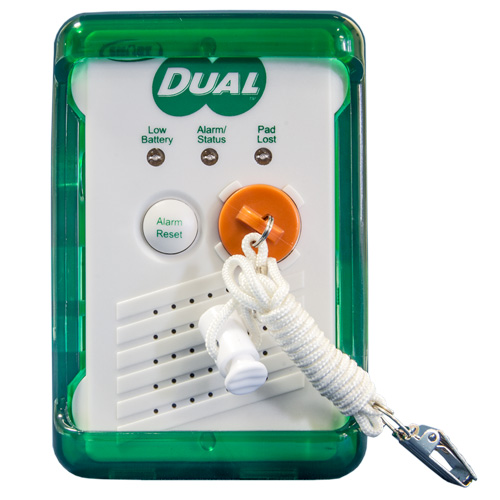 This product is warranted to be free from factory defects in materials and workmanship for a period of 1 year from date of purchased. Warranty void if this product is misused, abused or punctured.