Basic Fall Monitor In-Room Alarm
Smart Caregiver
SKU:
TL-2100B
Width:
7.00 (in)
Height:
7.00 (in)
Depth:
7.00 (in)
Lowest Cost In-room Fall Monitor TL-2100B On The Market
In response to market demand for a low cost – no frills fall prevention monitor (bed exit alarm, chair exit alarm), Smart Caregiver Corporation is introducing the TL-2100B Basic Bed Exit Alarm & Chair Exit Corded Alarm Fall Prevention Monitor. The TL-2100B is a Full-Function, low cost fall alarm monitor designed for use with all Smart Caregiver Corded Pads and Mats

This Bed Exit Alarm & Chair Exit Alarm Fall Prevention Monitor is for nursing homes, any home or facilities with a tight budget. It is made of durable plastic and includes simple features including nurse call port to connect to existing nurse call systems.
Monitor can be reset by pressing the reset button on the front of the monitor. Easy to reset with a large raised button on the face of the unit.
Auto-Reset Function: The Basic Fall Prevention monitor automatically resets when pressure is placed back on a connected pressure pad. Monitor can also be reset by pressing the reset button on the front of the monitor.
It includes a status light to let you know if the pad is disconnected and a low battery light. The Basic Fall Monitor comes with built – in strain relief clip to reduce the number of broken cords from accidental or excessive pulling from resident or bed rails.
Bed Exit Alarm & Chair Exit Alarm monitor can be set to silent
Monitor can be set to silent if used with an existing nurse call system. This makes it less disturbing to residents while maintaining safety by alerting the caregiver at the nurse's station.
Features
Equipped with Safety auto-reset button


Adjustable volume control – Monitor can be set to silent if corded nurse call button is used

Low battery light – will flash to alert caregiver that the battery is getting low in the monitor

Nurse call port – connects monitor directly to existing nurse call system

Battery operated (1-9v not included) or optional AC adapter (AC-02)

6 month warranty
WORKS WITH: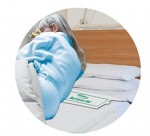 Corded Bed Sensor Pad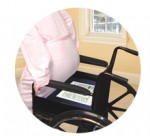 Corded Chair Sensor Pad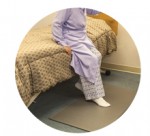 Corded Floor Mat
Corded Landing Mat
How it works?
Place the chair sensor pad under your patient's buttock area. The chair sensor pad has a cord which runs along the side of the chair. When the patient starts to get up, taking their weight off the chair sensor pad, the pad sends a signal to the chair exit alarm monitor and the monitor will start to alarm and let you know they need assistance. By having a chair alarm in the room with the patient, you will not only hear the alert from an adjacent room, but the patient may slow down and wait for you because they hear the alarm sound, giving you valuable time to come to their aid.